Professional IT support services have become an integral part of nearly all modern businesses. However, managing IT operations can be overwhelming even for the most established businesses, and this is where the importance of managed IT in Mesa, Arizona comes into play.
Since managing IT tasks in-house can be costly, many companies opt to outsource to third-party providers. Nonetheless, the process of choosing the right managed IT service provider is not as easy as it seems. The company has to consider the type of provider, the level of services offered, and the capacity to handle various IT tasks.
Keep reading to learn how to choose the right managed IT service provider and what a business stands to gain by having a reliable cybersecurity firm.
What Does an IT Support Do?
An IT support provider performs a variety of tasks to fulfill various information technology needs of a company. They essentially monitor and maintain the IT functions of a business thus allowing employees of a company to focus on other income-generating activities.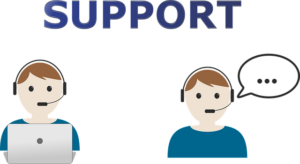 Here is a list of what a managed IT service provider does:
Maintaining and servicing a company's IT systems
Backup important business data
Monitor and maintain storage systems
Provide virtual CIO services
Keep IT equipment functional and available
The work of an IT support specialist can never be underestimated. They perform some of the most demanding IT support jobs to ensure that all information systems and networks are functioning optimally.
Why Do Businesses Need IT Managed Services?
Not all businesses have the capacity to manage IT functions in-house. This is where the importance of hiring an IT support specialist comes into play. IT support means providing assistance to businesses to manage their information systems and technological devices.
With many businesses struggling to break even, it makes sense to outsource some IT support services to a third-party provider. Doing so will give the organization's workforce adequate time and energy to focus on other business functions for the benefit of the company.
Types of IT Managed Services
The types of IT functions that a company can outsource to an IT support provider vary from basic tasks like updating an operating system to more complex tasks like disaster recovery.
The most common IT managed services to outsource include:
Data Backup and Recovery: Managed IT service providers use advanced backup systems and state-of-the-art technology to secure crucial business information and recover lost data in case of a malicious attack, a data breach, or a disaster.
IT Support Services: IT support involves the day-to-day monitoring and management of a company's information systems to ensure that they are functioning optimally and that they are available whenever they are needed.
Network Security: Managed network security entails protecting a company's network systems by detecting and mitigating viruses, spam emails, phishing attempts, and malicious attacks.
The types of IT managed services are almost infinite given that technology keeps on changing every day. Unless a company enrolls its staff for IT support training, it is only logical to outsource critical IT functions to a third-party provider.
Factors to Consider When Choosing an IT Service Provider
Choosing the right company providing managed IT in Mesa Arizona might be confusing and overwhelming if you don't know where to start. Fortunately, there are a few points that offer guidance on how to make the right choice.
These include:
Type of Provider
Businesses have the option of choosing between a local provider and a national provider. A local provider can create a long-term working relationship with a company, while national IT service providers are ideal for businesses that have a wider market reach.
Level of Services
When shopping for a managed IT service provider, it is crucial to find out more about their level of services. Some providers are only capable of handling basic IT functions and big-box providers have the expertise and experience to manage advanced services.
Size of the Business
The size of the business will determine the kind of managed IT services needed. If a business is still small, it may be possible to handle some functions in-house. However, as the business grows, it would be just a matter of time before some critical functions are outsourced to an IT support provider.
As you may have noticed, managing all IT functions in-house may overwhelm your team and lead to burnout. Moreover, it is more costly and draining to handle all services on their own.
Managed it in Mesa Arizona With Professional IT Support
Managed IT support services are crucial for the success of any business. That's why it is important to call for expert IT support to take some of the day-to-day tasks off your plate so you can focus on other profitable business functions.
Tectopia is a reliable IT support provider that can handle all IT-related issues affecting a company. Our staff undergoes rigorous IT support training to ensure they deliver excellent services. Get in touch with us today.